A Visit to South Carolina

By

Melbourne Garber

Since I met Joseph Opala and Amadu Massaly in 2006, when I was first really introduced to Bunce Island in Sierra Leone, efforts to preserve and stabilize its Slave Castle has become one of my passions. As I learned more about its history during the slave trade, I also got to learn about the connection between Sierra Leone and the Low Country of the United States, centered in South Carolina and Georgia.
In January 2017, as Director of Building for Gedeon GRC Consulting, I got the opportunity to go to Bunce Island to do a structural re-assessment of the Slave Castle. In addition to this Rupture Marketing accompanied me to Sierra Leone to film and take drone images of the island and areas in Freetown. We worked closely with the Monuments and Relics Commission (MRC), the statutory body responsible for overseeing all historic sites in the country.
Ms. Isatu Smith, Chair of the MRC was invited to a workshop in Charleston between February 28 and March 4 and so it was an ideal opportunity for me to also visit Charleston and research more about the connection between Sierra Leone and South Carolina.
Arriving in Charleston, the first port of call was Sullivan's Island, where ships carrying enslaved Africans were moored and a medical doctor would leave from to board the ships to check for diseases and the health of those onboard. If any of the enslaved Africans were found to have any ailment, they were quarantined in "Pest Houses" on the Island.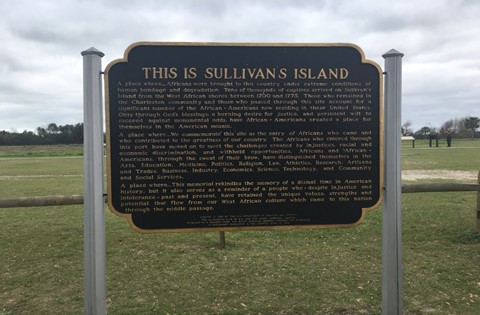 Figure 1: Sign at Sullivan's Island

Following this, I went to the Old Exchange and Provost Dungeon building, one of the oldest buildings in Charleston and where outside of the building, enslaved Africans were auctioned, together with horses and other animals and goods.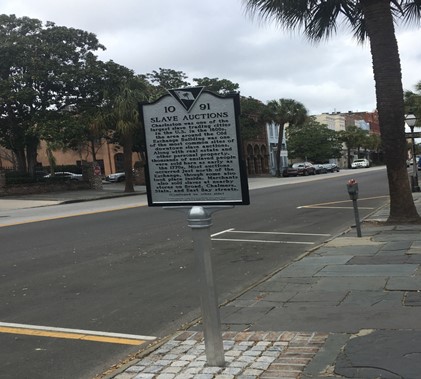 Figure 2: Sign near the Old Auction at the site of Slave Auctions

Over the next couple of days, I visited several plantations, including Mepkin Abbey, which used to be the plantation belonging to Henry Laurens. Henry Laurens was the chief agent in Charleston for the company of Oswald, Grant and Sargeant, the most successful owners of Bunce Island in the mid–late 1700's. He also became President of the Continental Congress and was one of the signatories of the Treaty of Paris that formally gave the United States its Independence. A signatory to this treaty on the British side was Oswald. He owned 20,000 acres of rice plantation and was one of the richest men in Charleston. I also visited Rice Hope Plantation, where I was given some Bennie seed snacks.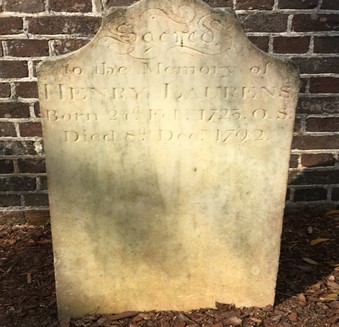 Figure 3: Henry Laurens tombstone in the Laurens cemetery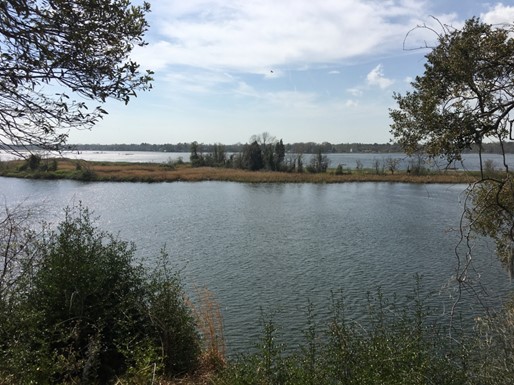 Figure 4: Mepkin Abbey with the Ashley River and original rice plantation beyond the middle bank

I also visited the Middleton Plantation, one of 19 owned by the Middleton family during the 18th and 19th centuries. The Middleton's were definitely one of the richest South Carolina families, at their peak the 19 plantations covered over 65,000 acres and they had over 4,000 slaves. On one of the display boards that listed a large percentage of their enslaved Africans, they also have a list of five who went to Nova Scotia with the British with one who they claim then made her way to Sierra Leone. At the Caw Caw Interpretive Center, which also used to be a plantation, I saw the "trunks", invented by the enslaved Africans to manage the flow of water to the rice fields. Flying a drone over these plantations, you come to appreciate the extent of this aspect of the slave trade that made Charleston the richest city in the Americas for over a century. An interesting fact that I have to relate is that I was told that Arkansas is the largest rice growing state now in the US and last year they produced about 81 million tons of rice with all the modern mechanized machinery. In 1794, South Carolina produced 79 million tons of rice using slave labor.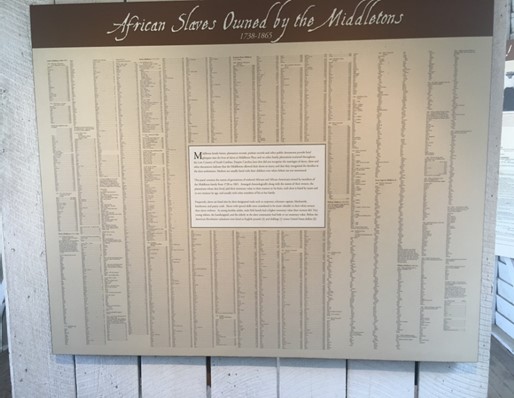 Figure 5: Names of enslaved Africans at the Middleton Plantations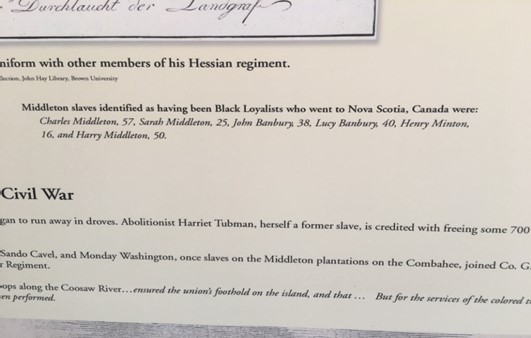 Figure 6: Names of Slaves identified as going to Nova Scotia. Lucy Branbury is said to have gone on to Sierra Leone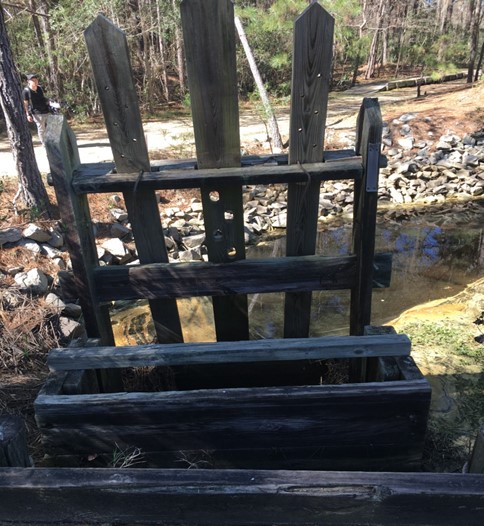 Figure 7: Original "trunk" to regulate water on rice plantations

I got the opportunity to both meet and interview 3 African Americans with deep Gullah heritage and who have also been to Freetown; Emory Campbell, Ron Daise and Thomalind Polite. Emory Campbell is a very distinguished and erudite Gullah and most recognized advocate of the Gullah culture, who hosted President Saidu Momoh of Sierra Leone at the Penn Center in St. Helena Island in 1988 and led the first Gullah visit Sierra Leone in 1989, where he was made an honorary Paramount Chief. Ron Daise is also a well known Gullah and advocate of the Gullah culture. He and his wife starred in the children's television show "Gullah, Gullah Island" and traveled to Sierra Leone in 2005 with Thomalind Polite. Thomalind Polite is the first African American whose ancestry was traced through historical records to the 10-year old slave girl called Priscilla from Bunce Island in Sierra Leone. She visited Sierra Leone in 2005.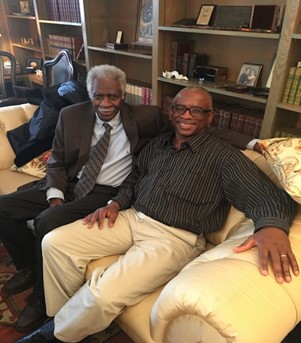 Figure 8: Meeting with Emory Campbell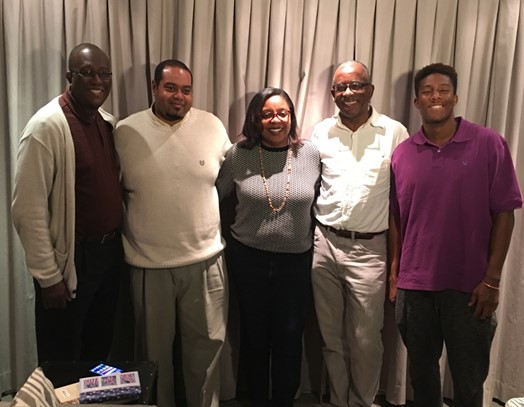 Figure 9: Meeting with Ron Daise, his son, Thomalind and her husband

I had the privilege of attending an evening service at Mother Emmanuel church. It was definitely an emotional and somber visit, especially after we were invited to a small reception down in the basement where the tragedy occurred last year.
However, maybe the most emotional part of the trip was that after Isatu Smith and I had given a presentation to members of the board of the IAAM about Bunce Island, we went to the site of the new museum, which happens to be the old Gadsden's Wharf where tens of thousands of enslaved Africans first set foot in America, to offer libation for all of those brought illegally to this land.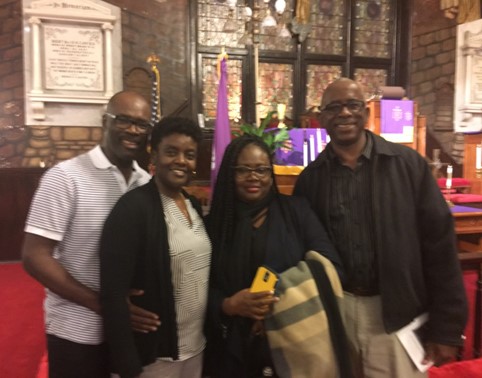 Figure 10: Visit to Mother Emmanuel Church with Rudy and Nellie Gedeon and Isatu Smith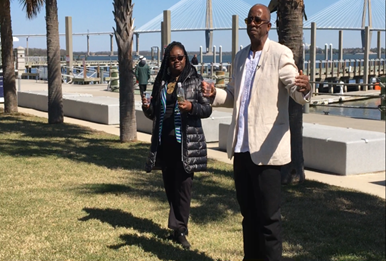 Figure 11: Isatu Smith and I offering libation at the IAAM site

My final trip was down to St. Helena Island, where I visited the Penn Center, where President Saidu Momoh had visited in 1988 and there is a display of Sierra Leonean artifacts. I also visited a Gullah Praise House, which was a fitting end to a memorable trip.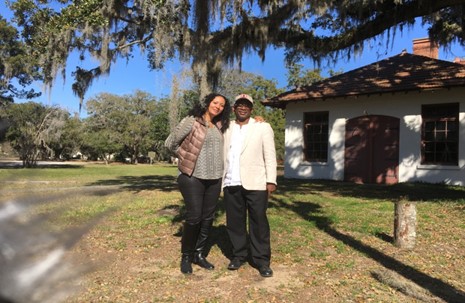 Figure 12: At Penn Center with Victoria Smalls, the Director of History and Culture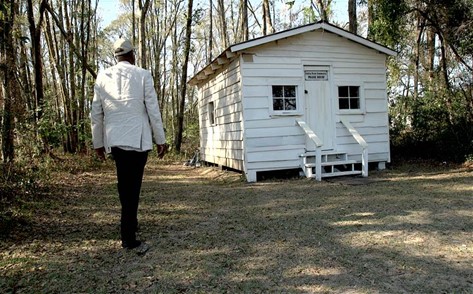 Figure 13: Gullah Praise House