Chief Michael Grizzle, Mayor Glendon Harris, Madam Minister Kadija Seisay, Members of the Trelawny Town Community, Ladies and Gentlemen, I bring you greetings from your brothers and sisters of the Krio Descendants Union Global family in the United States, Canada, England and especially from the parent body in Freetown, Sierra Leone.
The mission of the Krio Descendants Union is to provide a unifying voice for the Krios while promoting and preserving our history, culture and heritage through reflection, education, and charitable giving. I am the immediate past Chair of the Krio Descendants Union Global Leadership and the President of the Krio Descendants Union of the Northeast region of the USA. My role within the Global Leadership has now transitioned to the body's Historical Archivist.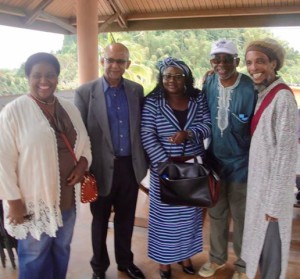 I know most of you already know the historical connection between Sierra Leone and the Maroons, however, I hope that my message today will supplement that knowledge. Upon exile to Nova Scotia after the second Maroon War, the Trelawny Maroons did not fare well to the Nova Scotian climate and land and petitioned the British Government that they wanted to be repatriated to Sierra Leone instead. Upon receiving this petition, the then Governor entered into negotiations with the Caulker family, a well-known slave trading family at that time, to settle the Maroons on Banana Islands, a few miles south of Freetown. However, because of continuing disagreement over ownership of the islands between the Caulkers and the Clevelands, another slave trading family, the negotiations stalled. So in 1800, 550 Maroons arrived in Freetown just in time to help the British authorities quell a rebellion that had arisen between some of the earlier Nova Scotian settlers and the British authorities over taxes. The Maroons soon quashed the rebellion, eliciting this comment from one of the settler rebels, "You don't fight fair. You don't kill 'em and be done with it; you poke 'em, poke 'em, poke 'em."
The Maroons soon settled in Maroon Town, west of "Settler Town" and by 1820 had built Maroon Church, one of the oldest churches in Sierra Leone, incorporating the bell and timber from the ship that brought them to Freetown. However, they again kept petitioning the British government to repatriate them this time back to Jamaica. After the British had abolished slavery in all their territories and emancipated their slaves by 1838, the Maroons again unsuccessfully petitioned the British government to repatriate them. However, this time a Mrs. Mary Brown and a few other Maroons pooled their resources, bought a ship and sailed back to Jamaica in 1841. Of course many of these returned Maroons had never stepped foot in Jamaica before. Some were disappointed to find out that the British Army still occupied their territory and so in 1861, 44 Maroons re-returned to Freetown from Jamaica on The Clarendon.
Fast forward 150 years and in March 2011, I was contacted by Joseph Opala, a well-known anthropologist to the Sierra Leone community who informed me that two Maroons named Nichole Ferguson and Kenute "Blood" Cameron from Flagstaff were contemplating a trip to Sierra Leone to connect with their Krio and Maroon relatives, especially as Sierra Leone was celebrating its 50th Independence Anniversary. They were received by my brother Manilius Garber in Freetown and met with many officials and local community leaders. They left with the promise that they would return, and I hope this will happen.
Additionally, as part of a documentary on the "History of the Krios", being co-produced by the Krio Descendants Union, film maker Olalekan Ogundapo visited the Accompong Festival last year and recorded some footage of the celebrations. We will now ensure that aspects of this momentous occasion are added to it.
From a personal perspective, my connections and ties to Jamaica have never been in doubt. My love of reggae music, from the Abyssinians to Tapper Zukie is well known to my family and friends and some of my very good friends used to call me "Roots Natty". My admiration of formidable Jamaican athletes, from Don Quarrie and Marlene Ottey to of course Usain Bolt and Shelley-Ann Fraser-Pryce is unwavering. I have always believed that my maternal grandmother was descended from the Maroons and as part of my research for this talk, this was confirmed when my brother informed me that on our mother's birth certificate, our grandmother was listed as a Maroon.
Last year, on Jamaica's Heroes Day, I attended the first screening of the film about Queen Nanny at the United Nations. Little did I realize that a few months later, I would be coming home to be among my Maroon family?
We Krios are also descendants of the Africans that were stolen, dehumanized, persecuted and discriminated against. We are descendants of Black Loyalists, Maroons and Liberated Africans and have roots extending from Senegal to Angola. We settled in a small peninsula of Africa called Freetown, Sierra Leone and against incredible odds rose like a phoenix and soared like an eagle. We have achieved much despite great odds and we continue to do so. Because of our presence in Sierra Leone, Sierra Leone can be considered as the true melting pot of Africa and this should be celebrated. As we continue to strengthen and expand our Krio Descendants Global family, it is only fitting that we are here in Trelawny Town to celebrate Treaty Day.
So, on behalf of the Krio Descendants Union, I would like to invite our Maroon family to Freetown this December to celebrate with us at our first Homecoming, which it now seems, was fortuitously postponed from 2014. I would also like to take this opportunity to present to you this proclamation of familial friendship and a copy of the list of Maroons who returned to Sierra Leone in 1861.
So right now mi bredren, I an I feel irie an ready fe mek wi jam it up!!